Photos have been shared in Spain showing the human side of the migrant crisis in Spain's North African enclave of Ceuta this week.
Some 8,000 people including children swam or waded around the border fence to enter Spanish territory from Morocco. Thousands were later returned to Morocco.
The embrace
One photo shows a volunteer with the Spanish Red Cross comforting a migrant (above) on a beach in Ceuta. The young woman, identified as Luna, told Spanish TV she did not know the man's name, only that he had come from Senegal.
"He was crying, I held out my hand and he hugged me," she told RTVE.
After the image of the encounter was shared widely online, the 20-year-old said she had been bombarded with sexist and racist comments, and had decided to protect her social media accounts.
But news of the backlash prompted other users to thank her, with the hashtag #GraciasLuna used almost 50,000 times on Twitter.
"#GraciasLuna for representing the best values of our society," responded Spanish Economy Minister Nadia Calviño, while another minister described the photo as a "symbol of hope and solidarity".
"We're an organisation in which there are many Lunas, who help people like those arriving in Ceuta every day," the Spanish Red Cross tweeted.
The rescue
Another photo which captured Spain's attention was of Juan Francisco Valle, who has been hailed as a hero after rescuing a baby from the waters off Ceuta.
Mr Valle, a diver with the Spanish Guardia Civil police force, said the child was "completely soaked and very pale" when he reached the scene.
The baby "must have been very young because it was unable to hold its own neck", he told RTVE. "Honestly, I didn't know if it was alive or dead."
Around 1,500 of the migrants who reached Ceuta were children, according to Spanish authorities.
The Guardia Civil shared photos of Mr Valle and others bringing children to safety, while the Ministry of Defence shared a post thanking the army.
The violence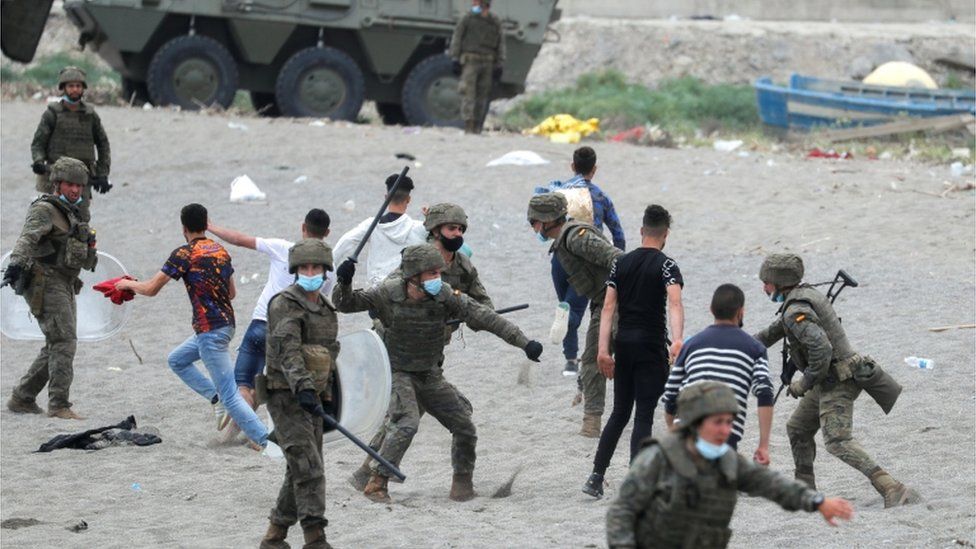 Not all photos from recent days were positive.
This image, taken after Spanish troops were deployed to the border area, showed a soldier hitting a migrant.
Around two-thirds of the migrants who reached Ceuta have now been returned to Morocco, according to Spanish authorities.
The wave of crossings earlier this week came after Morocco appeared to loosen its border restrictions.
Some have suggested the decision was in response to Spain allowing the head of the Polisario Front – a group seeking independence from Morocco in the disputed Western Sahara – to enter the country for medical treatment in April.media captionSpanish troops were sent to El Tarajal beach, near the Spanish-Moroccan border.BBC